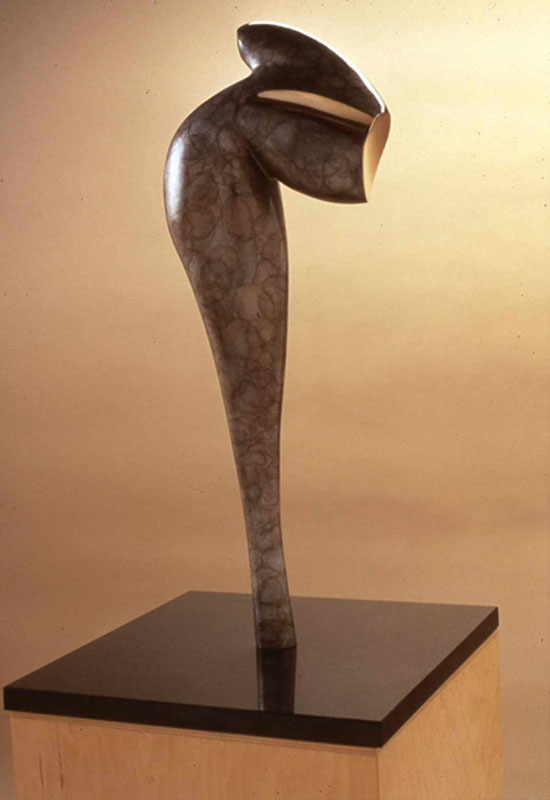 tim outman
1067 S.W. Kenwood Drive
Madras, OR 97741
(541) 475-4854
EDUCATION
1988-1990 Master of fine Arts, Sculpture, University of Oregon, Eugene, Oregon. Studied with figurative sculptor, Paul Buckner.
1981-1987 Studied with portrait and figurative sculptor, Harriet Moore, San Francisco, CA
1980 Juris Doctorate, George Mason School of Law, Arlington, VA
1971 Bachelors of Arts, Rhetoric and Sociology, University of California, Berkeley, CA
PROFESSIONAL EXPERIENCE & AWARDS
1994-2007 Owner/Sculptor, Outman Art Studio, McKenzie Bridge, OR
Participated in numerous art shows and selected galleries. Provide sculpture for private and public collections.
1999 Recipient of Peoples Choice Award, Sedona Sculpture Walk, Sedona, AZ
1994 Viet Nam War Memorial, bronze portrait bust of Max Yabes, Congressional Medal of Honor recipient. Oakridge, OR.
1990-1994 Instructor, Lane Community College, Eugene, OR.
Taught sculpture and drawing including portraiture and the figure. Emphasis on anatomy, proportion, and gesture. Directed and taught bronze casting foundry and welding program. Created large sculpture for Modern Dance performance.
1992 Oregon Percent for the Arts Program:
Assistant to Wiltzen Blix to relocate Capitol Fountain, Salem, OR. Restoration, repatination, and waxing of large bronze sculpture.
1992 Instructor Assistant, Martine Vaugel Sculpture Studio
Focus on the figure and portrait, Les Cerqueux Sous Passavant, France.
1991 University of Oregon, Adjunct Faculty.
Taught beginning and advanced drawing and sculpture that explored techniques in two and three dimensions, including stone carving and bronze casting.
1998-1990 Instructor, University of Oregon, Graduate Teaching Fellow (GTF)
Taught drawing and sculpture.
1990 Oregon Percent for the Arts Program:
Assistant to Bill Harsey for "Winged Visions", Southern Oregon State University, OR
1990 Recipient Jan Zac Sculpture Award by University of Oregon Foundation. Award promoting international art studies.
1989-1990 Nike International, Inc. Commissioned for Permanent Collection. Corporate Headquarters. Beaverton, OR (Mia Hamm Building)
SELECTED EXHIBITIONS
2006-present Gallery International Modern Art, Seattle, WA
2008-present Art Adventure Gallery, Madras, OR
2007-2008 Mirror Pond Gallery, Bend, OR
2006 Valley Bronze Gallery, Astoria, OR
2003-2006 Sculpture in the Park, Loveland, CO
2004-2006 Berozkina Gallery, Kirkland, WA
2004-2005 Gallerie Elektra, Sausalito, CA
2002-2003 Linde B. Martin Gallery, Carmel, CA
2002-2004 Arte-Misa Gallery, Sedona, AZ
2001 Fingerhut Gallery, Carmel, CA
2000-2002 Architectual Home Tour, Sedona, AZ
1999-2006 Augustine Arts Gallery, Lake Tahoe, NV
1998-2004 Sedona Sculpture Walk, Sedona, AZ
1998-2003 Gallery at Salishan, Gleneden, OR
1997-1998 Mexico Sculpture Exhibition, Exchange of sculpture with Mexico. Shows in Mexico City, Cuernavaca, and Guadaljara.
1997 Chetwynd-Stapylton Gallery, Portland, OR
1997 Galleria Amalia Mahoney, Chicago, IL
1996 Thirty-three Years of Sculpture with Paul Buckner, Chetwynd-Stapylton Gallery, Portland, OR
1993-1994 Sun River Juried Show, Sun River, OR
1992-1994 Lane Community College, Faculty Show
1992 Les Cerqueux Sous Passavant, France. Portrait Show
1991 Nike International, Inc. "Les Danceurs au Vent", Permanent Collection, Beaverton, OR
1990 Masters of Fine Arts Show, LaVerne Krause Gallery, University of Oregon, Eugene, OR