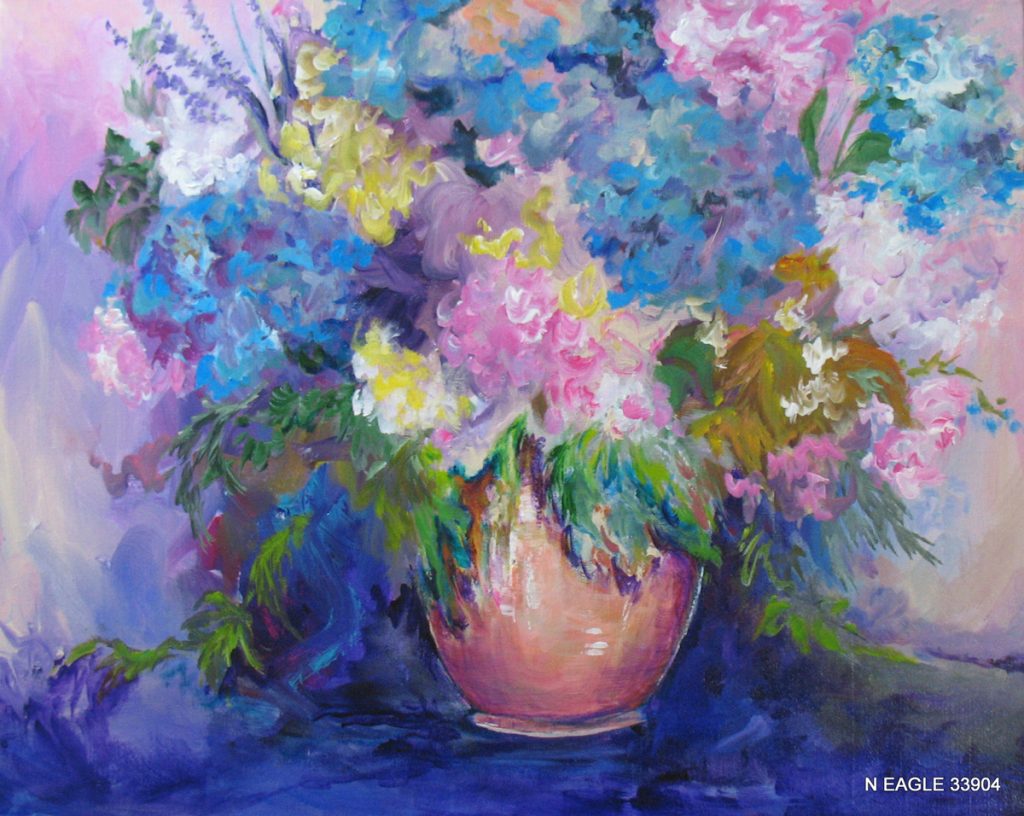 I always loved to draw and color. My first paints were a tin of watercolors. High school art class was my favorite, but it was very limitied in those days. I envied friends who got to go to the Cleveland Art Museum on Saturdays for an art class. I got to visit once, but did not have a supportive family. I went straight to work out of school and it wasn't until I was married and had two small children that I was able to attend some classes, now in the Pittsburgh area. There were wonderful groups and teachers in the area and I jumped in with both feet. My first exhibit was with a small art league and in a local shopping mall. We were all so excited about seeing our work on display and for sale. The area was rich with museums and I loved to visit them and found I loved many styles. When the girls were in school I signed up for some classes at the Pittsburgh Center for the arts and my instructor was head of the art department at a local womens college. The atmosphere, working with other aspiring artists and attending openings and exhibits was new and exciting. I began to submit work to juried shows and to set up at outdoor exhibits. My love was color and I worked in mostly abstract style. I began to teach adult education classes. This was in the 70's and new styles were emerging every day. I spent hours late at night painting. When the girls were grown and I was on my own, I was back to working with not as much time to paint. When I began to study photography, I also became interested in painting large backdrops and studio walls. I did this for several years and created my own business.
I moved to Florida in '89 and and a new palette of colors and styles came in being. The tropical colors and beauty of the area inspired me anew. My days were spent working again, but I found time to involve myself in the local art scene. My interest became the impressionists, their colors and styles were exciting and inspiring. When I had a chance to travel, I always visited the museums and was completely in love with seeing those beautiful works of art. I worked first in oils, but had moved into acrylics and fell in love with the color and techniques I could do with them. I found a wonderful teacher/artist who also had a school in France, right next to Monet's gardens. His class was a complete delight and I had hoped to get to France. He passed away the following year and I am so grateful to have had the chance to work with him.
I moved to Oregon in 2006 and being retired could spend all the time I wanted to painting and doing photography. I was accepted into the Oregon Watercolor Society and built a small studio behind my home. I paint in several styles, and I paint what I feel at the moment. Vivid color is love and Van Gogh and Monet are my mentors. I love to visit galleries, take classes and exhibit my work.
You will see a variety of styles in my show. When the inspiration comes to me, I just have to paint it!