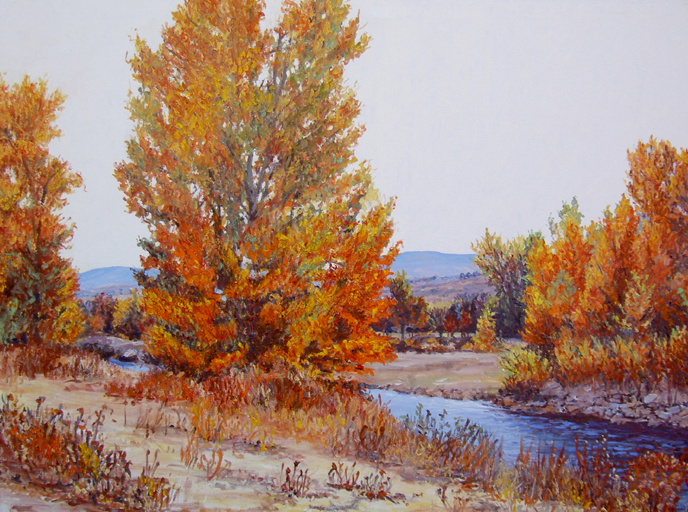 Joanne Donaca is a native Oregonian. With a mother and a father who had their own artistic abilities—her mother of European descent and her father of Native American and European—it was only natural for Donaca to acquire and incorporate their influences and heritages.
In high school she was fortunate to have an art teacher who encouraged her and inspired interest in trying all media. She won awards for her work throughout high school, developing a love for art that would only grow with each passing year.
From those first encounters with art, Donaca has worked in virtually all media, ranging from pencil drawings, pen and ink, soft pastel and oil pastel, watercolor, to acrylic, oil, and clay. The Pastel Society of America, the Northwest Pastel Society and the Pastel Society of Oregon recognized her excellence through the award of signature membership in these organizations. Since she began painting professionally in 1987 most of her art studies have been independent and self-directed.
For Donaca, all nature appears as a painting just waiting to be created. She derives great pleasure from her work, a solid body of paintings which now numbers in the hundreds. Her favorite picture…she laughs, "the next one I paint!"
"What fascinates me about artwork is the wide variety of art created and preferences for that art…we all have our own tastes. The common goal throughout my art: to generate a strong emotional response. I strive to capture that in my art—the unique ability to entice people to interact with pleasure when they view my artwork and to feel connected to it in some way.
Originally I wanted my artwork to depict scenes and objects fairly accurately. As I changed from pastel, watercolor, and acrylics to oils, the transition was natural – moving toward impressionism, painting quickly and suggesting shapes. What drives me artistically and motivates me to paint presently is to challenge the viewer to interpret what he views rather than defining it for them. I prefer to minimize and let the viewer finish the painting in his own mind, and in this way he becomes linked with my painting.
Challenge is a big factor in my life. Painting gives me great pleasure and satisfies that desire for challenge."
Joanne Donaca's landscapes are highly sought after for many reasons: her competence in creating powerful images through bold brushwork; her masterful use of natural light; and, a lighter, highly colorful palette first introduced by the French Impressionists. "There is nothing delicate in my paintings," she says.
Inspired by her artistic mother as a child, Donaca won art competitions throughout high school. In the late '80s, after raising three children with her husband Richard, she returned to honing her exceptional skill; she decided to pursue painting in oils in the late '90s after being inspired by a Monet show she saw at the Portland Art Museum.
"The Cascade Range and the High Desert as well as the animals, natural beauty and diverse geography of both climates are ideal for painting and, of course, a constant inspiration," she notes. Recently Donaca's works have included the lush gardens and vineyards in the Willamette Valley as an acknowledgment of the landscape where her husband grew up. These larger-scaled, two and three-piece landscapes reach eleven feet by four feet.
Donaca is frequently featured in shows in the resort community of Sunriver and is in demand to do demonstrations at the Sunriver Lodge. She delights the adults as well as the young children who eagerly congregate around her waiting to take their turn with a brush on her canvas of a painting in progress. "Their exuberance and enthusiasm is exhilarating."
Donaca participates in shows at the Sunriver Lodge Upper Gallery with Billye Turner, art consultant – phone cell: (503) 780-2828 and phone office: (541) 382-9398; Lawrence Gallery in Sheridan and Salishan, Oregon; Browns Gallery in Boise, Idaho; and Falcon Crest Gallery, Mirror Pond Gallery, and Art Adventure Gallery all in Central Oregon.