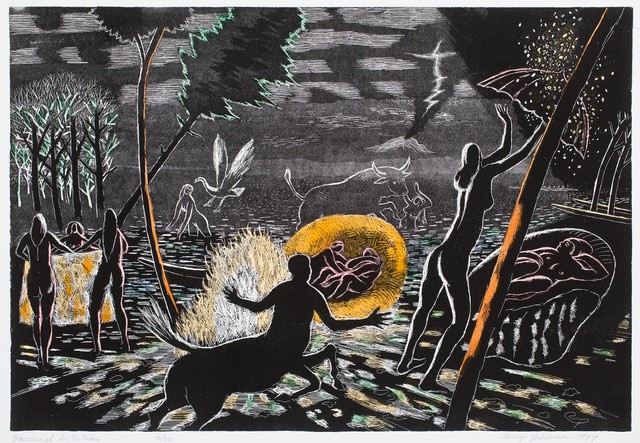 Those who teach what they love are lucky indeed. Those who inspire are more fortunate still. George Johanson spent a lifetime doing both.

A painter, printmaker and ceramic tile artist, George Johanson studied at the Museum Art School (now the Pacific Northwest College of Art) in Portland with further study in New York as well as London.

A major and beloved Pacific Northwest artist whose career spanned more than 70 years, George died Oct. 14, 2022 from heart failure at 94, leaving a huge hole in the Oregon art scene.

For anyone in central Oregon who is not familiar with George's art, or for those who already admire his work or were blessed to know him, there is an opportunity to enjoy and celebrate an exhibit featuring works on paper at Art Adventure Gallery in Madras for the months of September and October.

Born in Seattle in 1928, George came to Portland at 17 to attend the Museum Art School, where he studied with leading regional figures such as William Givler, Louis Bunce, Jack McLarty, and Mike Russo. After a few years in New York in the early 1950s, Johanson returned to Portland where he taught at the Museum Art School for 25 years until his retirement in 1980, while he also built his own practice. He has had more than 60 one man shows and is represented in public and private collections including the Portland Art Museum, the Seattle Art Museum, the Smithsonian National Collection, in Washington, D.C. and the Victoria and Albert Museum in London, the Jordan Schnitzer Museum Of Art (University of Oregon), the Hallie Ford Museum of Art (Willamette University ), and numerous other public, corporate, and private collections.. He received the Oregon Governor's Arts Award in 1992.

For Johanson Image-making wasn't so much a profession as a raison d'etre. In Johanson's words:
art is basic to being a human being and the more we have of it the better off we are … art is the most important thing in the world … it's what we're really here for, to be creative. To make something and look at the world and to interpret through art is the highest activity of human beings.

George Johanson